Students in Tijuana, Mexico gathered safely outside on December 11th for the ASF annual posada. ASF continues supporting youth during the pandemic. It was the first ASF student-wide gathering since March of 2020. 
Together at last 
ASF students gathered safely on December 11th for our annual Posada. A Posada – which means inn or lodging in Spanish – is a traditional Mexican party celebrated in the days leading up to Christmas. 
Due to the pandemic, since March of 2020 all ASF student-wide meetings have been virtual, including last year's posada. 
While we continue supporting youth in Mexico by keeping them connected virtually, time apart takes a toll. In-person mentorship and human connection are central to our mission of supporting youth, and we continue to explore ways to help students cope with the isolation brought on by the pandemic. 
On December 11, 2021, we were fortunate enough to reunite our students safely for an outdoor Posada with masking and COVID precautions in place. 
…despite being apart for so long, we came together again in a joyous way," says ASF university student, Nicole."
The long-awaited reunion was emotional for students, staff, volunteers and board members 
 Luis, a middle school student, appreciated spending time in the company of his peers, "I enjoyed it because things are not the same as before," he says.
Gifts Galore
Each year, our most senior board member, Jenn Depoy, organizes a backpack drive to give each ASF student a backpack full of supplies and necessities. She rallies sponsors to gift backpacks full of notebooks, pencils, decks of cards, treats, toiletries and more. Individuals from San Diego, Los Angeles and as far away as Boston donated backpacks for ASF students. In addition, students at St. Augustine High School in San Diego volunteered to transport backpacks to Tijuana, and the rugby team even put together backpacks of their own for our students.
 Some backpacks are so full of goodies that we worry the zippers might bust. However, despite great support from our community, collecting enough donations proved a challenge this year due to the pandemic. In the end, Santa's helpers delivered. Generous donors and community members stepped in to contribute monetary donations and sponsor backpacks for students. 
Cupcakes and good company
Students enjoyed cupcakes, exchanged gifts and enjoyed each other's company. For some, it was the first time they had met other ASF students in person. 
"Chatting, being together, seeing everything – and not through a screen – I loved seeing everyone," says Lluvia, a first year ASF student in middle school.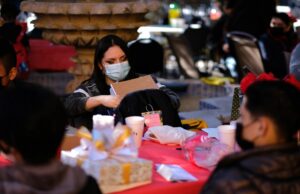 Students open presents together.
In sum, the event was a great way to end the year. As the pandemic situation evolves, we continue prioritizing the health and safety of our students, and look forward to connecting with them safely in 2022.